FFA-SD double horizontal sealing plastic medicine board high-speed packaging machine
作者:编辑部 日期:2014-11-10
FFA-SD is the company for aluminum composite panels and other drugs for high moisture, use a thicker packaging film (6-12 wire), and relatively high demand for packaging speed development of user-specific models. The reciprocating packaging machine adopts double horizontal sealing mechanism, using seven servo drive systems, able to stabilize the completion of high-speed automated packaging. The unique advantages of double-cross seal system capable of in a unit time, simultaneous two sealing action, greatly increase the efficiency of sealing and vibration reduction multiplied tendency equipment, auxiliary specially designed structure, the be able to maneuver to adjust sealing time and travel, which not only greatly improve the frequency of relatively thick film of sealing and stabilizing sealing effect. Entire seven servo system in a unified coordinating role, so theoretically double horizontal sealing mechanism Packing speed is twice the speed of ordinary horizontal seal mechanism, but in view of institutional power and the vertical vibration and sealing efficiency configuration limitations packing speed can be stabilized up to 150 bags / min is not a problem.
This product is the main framework and by the aging steel plate welded to ensure that the body is not deformed; the equipment enclosure and the product contact parts made of high quality 304 stainless steel; inside the box with epoxy electrostatic powder paint, curing, coating processes before the product by seven rigorous treatment, surface treated steel St2 level consistent with the requirements of the above salt spray corrosion resistance 500H; imported electrical parts full servo control system, mainly used in electrical components, with a distinctive large color LCD touch screen, a variety of parameters can be in displayed directly on the screen; rugged safety shield and safety warning signs, equipment, more beautiful, safe; installation of vertical sealing ironing equipment, packaging materials, heat extends to solve problems caused by folds; the installation of vertical sealing the opening and closing devices, vertical sealing heating by automatically separating plate cylinder control to avoid scalding packaging film; bag filter, specially designed, will not leave scratches in the packaging film after entering the bag filter; special medicine board conveying mechanism, there is always under plastic medicine board conveyor synchronized movement, dynamic steady, especially for multi-board, to avoid the drop, cut package; air bag automatically remove function; shut warning detection, culling; FFA-MD (FFA-MDL) reciprocating packaging machine using the new reciprocating transverse sealing device, arbor made of high-strength aerospace aluminum production, light weight, high strength, sealing perfect, not wasting film, long life, easy to clean; reciprocating Aircraft transverse sealing device uses motion block output mechanism, packaging film and the cutter moves together to ensure that the cutter will not cut into the material.
Alternative means: hot melt coder, double reel, automatic sealing film devices, automatic feeding device, vertical sealing cooling device.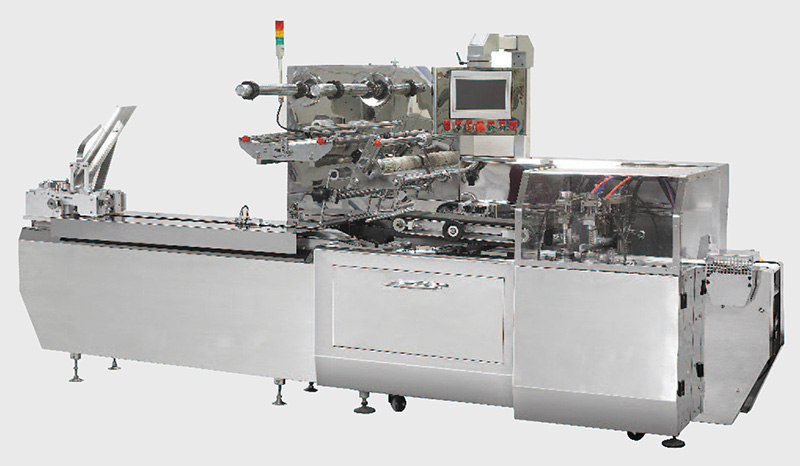 技术参数/Parameter
| | |
| --- | --- |
| 包装尺寸(mm)/Packing size(mm) | L(100-450)*W(50-150)*H(5-65)/L(100-450)*W(50-150)*H(5-65) |
| 包装速度/Packing speed | 30-160包/分钟/30-160 packs/min |
| 包装材料/Packing film | PET/PE PET/AL/PE OPP/PE OPP/CPP 等 |
| 内孔直径/Diameter of inner bore | ∮75mm |
| 包装材料厚度/Packing film thickness | 0.04-0.12mm |
| 包装膜宽度/Packing film widt | 根据实物确定/According to the product |
| 装机功率及电压/The total power | 4KW,220V |
| 包装机尺寸及重量/The dimension & weight | 5000*1100*1500( mm );1000KG |
| 适用产品/Application | 铝塑药板等使用较厚包装膜的行业 |
技术参数/Parameter
序号
No
技术项目
Item
技术指标说明
1
包装速度/
Packing speed
30—220包/分/bag/min(adjustable)
2
整机参考尺寸/
The machine dimension
4000*1050*1700mm
3
整机参考总重量/
The machine weight
1200kg
4
电源及总功率/
The total power
220V/3.6KW
5
压缩空气/
Gas consumption
耗气量 250NL/分,气压 0.5-0.7MPa/250NL/min,atmospheric pressure0.5-0.7MPa
6
输送带高度/
The conveyor height
0.85m
7
包装材料/
The packing material
纸(paper)/PE,OPP/PE,CPP/PE,OPP/CPP,OPP/AL/PE
8
卷膜最大外径和内径/
The film roll diamete
300mm,75mm
9
卷膜质量/
The film roll weight
<=25KG
10
适用卷膜的规格/
The film specification
厚度 (Thickness):0.03—0.1MM 单片宽度 (film sheet width):100—450MM
11
噪音指数/
Noise
<75dB(A)
12
机身标识情况/
The function remark
运行方向、穿膜示意、安全标示、开关操作、功能指示齐全明显。
The running direction, film winding, secure mark, switch operation, function indicator.