FFA-Y Series infusion bag(bottle) packing machine
作者:编辑部 日期:2014-11-10
FFA-Y Series up feeding film packing machine is specialized on the medical industry, used for the soft articles such as infusion bag, infusion bottles, etc. This machine adopts multiple belt convey feeding, photoelectrical detection, auto arrangement, distance control to distribute, avoids the manual feeding and inaccurate article position by the traditional forks. It could connect with the whole production line, in stable operation and high efficiency, and all the designs meet the GMP requirements. Correlation photoelectrical detestation effectively solves the problem of the tracking on the liquid specular reflection. The machine will stop automatically when the product is out of the position.
Packing material: the laminated film, such as OPP/CPP.
Options: date coding machine, film recovery system, auto feeding system, alcohol spray system, label sticker and so on.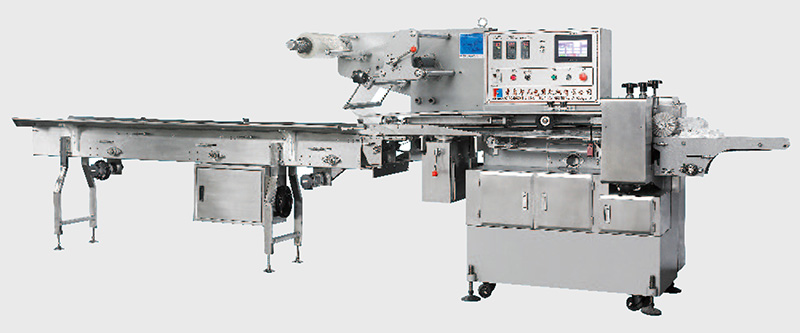 技术参数/Parameter
| | |
| --- | --- |
| 包装尺寸(mm)/Packing size(mm) | L(100-450)*W(50-150)*H(5-65)/L(100-450)*W(50-150)*H(5-65) |
| 包装速度/Packing speed | 30-160包/分钟/30-160 packs/min |
| 包装材料/Packing film | PET/PE PET/AL/PE OPP/PE OPP/CPP 等 |
| 内孔直径/Diameter of inner bore | ∮75mm |
| 包装材料厚度/Packing film thickness | 0.04-0.12mm |
| 包装膜宽度/Packing film widt | 根据实物确定/According to the product |
| 装机功率及电压/The total power | 4KW,220V |
| 包装机尺寸及重量/The dimension & weight | 5000*1100*1500( mm );1000KG |
| 三段供料尺寸 / The feeding conveyor size | 2620*500*800m(mm) |
| 适用产品/Application | 100ml、250ml、500ml、1000ml |